Car Leasing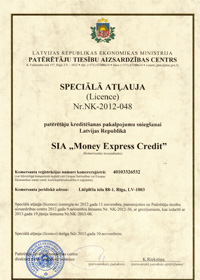 In response to the market demands, the company MONEY EXPRESS CREDIT SIA has developed a lease offer, in order to enable car purchases for people, who during the crisis have had to face financial hardships resulting in failure to timely fulfil the obligations towards crediting organisations – banks, leasing companies, and similar creditors.
We can offer financing of:
up to 15 000 EUR
up to 60 months
WHO CAN RECEIVE FINANCING FOR BUYING A CAR?
Anybody living in the Republic of Latvia aged 18 to 70
HOW CAN I GET FINANCING FOR BUYING A CAR?
By filling in the application, which will be reviewed within 1 day
In some cases, we can request an additional guarantee.